JULIA MARGARET CAMERON
Paul and Virginia, 1864 © Victoria and Albert Museum, London.
28 November 2015 – 14 February 2016
Supported by The Bernard Lee Schwartz Foundation
This donation was made possible by the American Friends of the V&A
To mark the bicentenary of the birth of Julia Margaret Cameron (1815-1879), one of the most important and experimental photographers of the 19th century, the V&A will present 100 of her photographs from the Museum's collection. The exhibition will examine her relationship with the V&A's founding director, Sir Henry Cole, who presented the first museum exhibition of her work (and the only one during her lifetime). It will include a number of works given and sold directly by Cameron to the Museum, letters written by Cameron to Cole that reveal her questions on technical and practical matters, and Sir Henry Cole's diary which describes sitting for a portrait by Cameron. The works on display will show Cameron's technical experiments in striving to make highly artistic photographs which she expected would 'electrify you with delight and startle the world'.
Paul and Virginia, 1864 © Victoria and Albert Museum, London.
DRAWN BY LIGHT: THE ROYAL PHOTOGRAPHIC SOCIETY COLLECTION
2nd December 2014 – 1st March 2015
From serene landscapes to exquisite nudes, this new exhibition brings together over 200 extraordinary highlights from the collection of the world's oldest surviving photographic society, by some of the greatest names in photography.
Founded in 1853, the Royal Photographic Society (RPS) Collection is now held at the National Media Museum, Bradford as part of the National Photography Collection. With over 250,000 images, 8,000 items of photographic equipment and 31,000 books, periodicals and documents, it's one of the most important and comprehensive photographic collections in the world.
In collaboration with the Reiss-Engelhorn-Museen in Mannheim, Germany, and with the support of The Royal Photographic Society, the Science Museum has made a selection of key treasures from this extraordinary collection.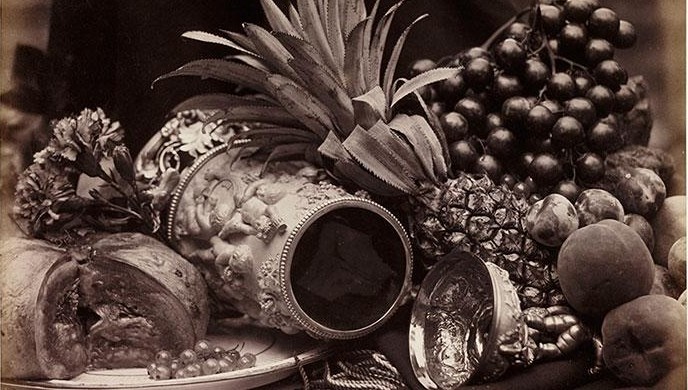 Still Life with Ivory Tankard and Fruit, 1860, Roger Fenton, The Royal Photographic Society Collection © National Media Museum, Bradford.
REVELATIONS: EXPERIMENTS IN PHOTOGRAPHY
20 March – 13 September 2015
and then at National Media Museum, Bradford. from 19 November 2015–7 February 2016.
Originally planned to be Media Space's opening show in June 2013 Revelations will finally open on 20 March 2015 after the its exhibition programme was reviewed and revised. The ambitious exhibition will show the influence of early scientific photography on modern and contemporary art – the first time a British exhibition has done so.
Showcasing some of the first and rarest examples of scientific photography, Revelations explores how the incidental aesthetics of ground-breaking techniques pioneered by figures like William Henry Fox Talbot, Eadweard Muybridge and Harold Edgerton have inspired diverse artistic responses.
From the 1840s, scientists were using photography to record phenomena too large, too small or too fast for the human eye to see. William Henry Fox Talbot's experiments with microphotography, some of the earliest scientific photographs ever made, will be on show alongside striking works by contemporary artists including Hiroshi Sugimoto.
Co-curated by Greg Hobson, Curator of Photographs at the National Media Museum, and Dr Benedict Burbridge of the University of Sussex, the exhibition will explore how art and science have been used to show phenomena which, thanks to the limits of human physiology, were previously invisible.
Calotype negative of Insect wings, as seen in a solar microscope, c.1840 by William Henry Fox Talbot. National Media Museum Collection.